You can select the download of the GPS data for the book as a download file in the online shop as an additional option.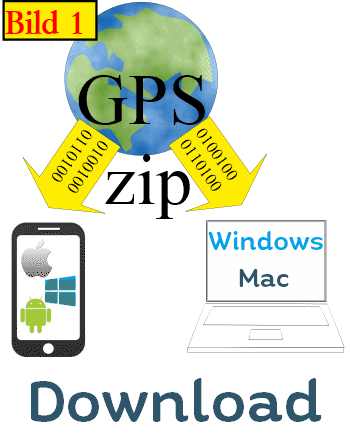 General:
In the online shop www.mdmot.de you have the possibility to order a book and as an option to get the GPS data as a download.
If the article has been paid then the download will be activated.You will receive an email after unlocking with the download link of the GPS data.
The book will be sent to by post at the same time.
Important:
The download does not include electronic books or route descriptions, there are the GPS data available as ZIP -File download as our CDs or USB sticks.
After the release you have 4 attempts to download the data, then the download is locked again.
Advantage: You can also trigger the download directly from a tablet or smartphone.
First step (Order of the article)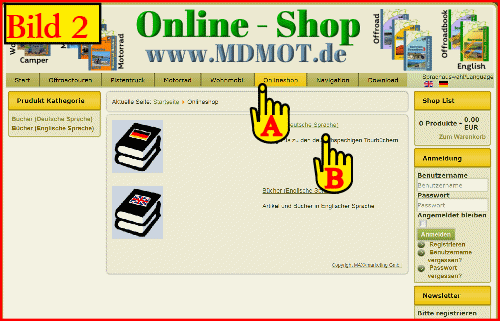 Order an article in the online shop (

see A

) from www.mdmot.de
Attention: There are books in German and books in English language (

see B

)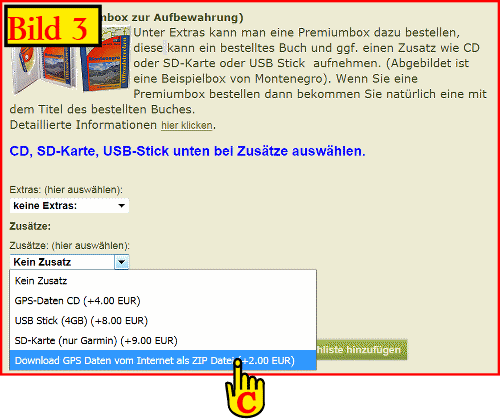 If you order an article and want to have the GPS data as a download, then you have to select the option Download GPS data from the Internet as a ZIP file for add-ons (

see C

).
Step 2 (Payment)
After ordering you will receive a confirmation email with the account details to transfer the order amount.
Step 3 (Shipment)
The book (see E) will be sent to the customer by post after payment.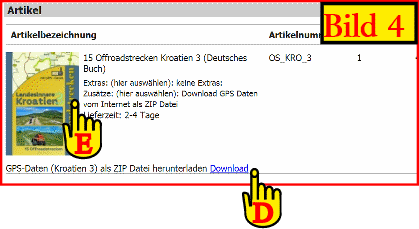 After receiving the money, we will release the download and the customer receives an email (

see picture 4

) with the download link (

see D

) where you can download the GPS data from the internet.
You have 4 attempts to download the GPS data, then the download is blocked, also the download is deactivated after a period of 1 week.
If the download did not work, please send us an e-mail at

This email address is being protected from spambots. You need JavaScript enabled to view it.