Alicante Murcia Spain
Winter - off-road with 4x4 vehicle or Enduro near Alicante / Murcia (Spain)
General:
In this Region you can drive off-road all winte long, it is very suitable to spend an off-road holiday in winter, the daytime temperatures rarely drop below 16 degrees.

Country and people:
The spanish people are a busy people. They are very friendly and have been used to tourism for many years.

Safety:
We have been here several times and have never had a problem in this area, even if you ask around the campsites, only positive reports are received.
Travel time:
In summer it can get very hot and the ravines or Ramblas then heat up a lot. Great travel time is from September to May. As a winter escape, this area is a welcome change. We always come here December / January.
Overnithing:
There are several places to stay overnight in this area, as the locals also come here to relax over the holidays.
Traffic:
The cities are teeming with cars and people, including tourists who spend the winter here, of course. If it becomes rural, there is little traffic.
To eat and drink:
There are many restaurants run by many nationalities, you usually can't starve here. The Spaniards usually eat several courses, which means that some restaurants offer inexpensive menus (3 courses, salad and a drink (from 10 euros).
Vehicle:
We have already been on the way here with various enduro's, travel enduro's, sideby-side and off-road buggy.
Landscape: There are several sierras, national parks and desert-like areas, like in Morocco. There is no sandy desert, but the A18 and A2 tours are examples of this area. There are also mountains of up to 1700 meters high, to which great off-road routes lead up.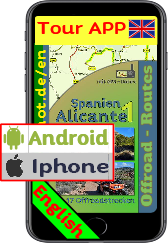 MDMOT Tour - APP (Guibo)

New!!
The Alicante / Murcia tours are available for our tour APP Guibo.
Guibo can be used as an APP for Android or IOS (Mac) systems.
All maps, routes, POIs are downloaded

at home

via WiFi.
This app can then be used offline to take the tours.
(click here for more information)

To order a tour app in English click here.