Iceland (en)
Offroad - Iceland routes

Again and again it takes us to Iceland. The routes described below can be driven with Enduro motorcycles, travel enduro or all-terrain vehicles

(with build pickups)

, SUV, or even higher-wheel drive vehicles. There are 2 routes that can

not be driven

with a travel enduro, these are described with alternative route. The distances can vary according to water levels in the river crossings.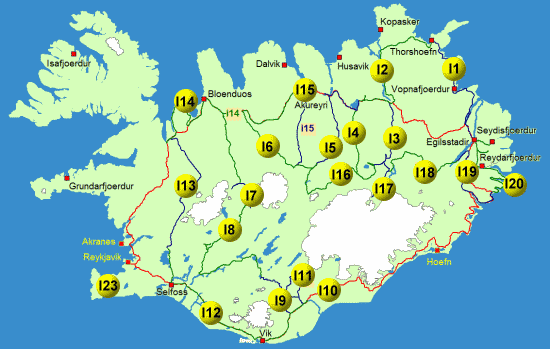 General information about Iceland:
Iceland is an island, you can arrive by ferry or plane. The ferry goes from Denmark or Norway, is not cheap and you are min. 2 days traveling. By air, it goes faster, it must, however, hire a four-wheel vehicle. When rent is important to ensure that the vehicle must be moved along the highland slopes.
Land and People: Iceland has almost no trees, the vegetation can be any 50 km differently, for adventurers and nature lovers a great island. Icelanders are polite, but also cautious.
Security: Iceland is one of the safest countries in the world.

Overnight

: In Iceland there are hotels in the cities, in the country there are a few guesthouses and campsites partly with wooden huts. In the highlands, there are simple camping managed by a Ranger.
Travel time: We prefer the journey time from late June to late August, the important highland routes should be released to traffic.
Traffic: Traffic is only in the cities, in the countryside is

not much traffic

on

the gravel roads can be several hours alone.
Food and Drink

: The food is much more expensive for German conditions.

Vehicles: the way we were in Iceland with various enduro and touring enduro's.