Route length: ca. 220 KM

Gas station: after 150 km

Road surface: 70% Gravel

Driven with a Suzuki DR 250 und KTM 640 Adventure.

Route description
This tour takes in the south of Reykjavik. Follow the highway out of the city turns into a paved side street, the tar your loses covering after a few kilometers. It travels along near the coast. Even rental car using this route.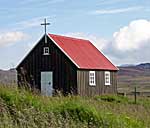 Here you can hot sulfur springs, as well as visit a small wooden chapel. The landscape is rugged, performs Lawa fields through. From a small town begins again the tar covering, which leads us to the Blue Lagoon.

| | |
| --- | --- |
| | Bathing in the world-famous Blue Lagoon is announced. Almost every tourist wants to go there ... On the homepage of the Blue Lagoon you can now reserve tickets. |
| | |
Onlineshop EN Tourbook Iceland Offroad
Detailed route descriptions of 21 offroad routes with sketch and sights so that it can also be used whitout GPS device.
Travelbook (Tourbook) in DIN A5

GPS-Data CD

As an option, there is a CD with the GPS routes and the most important points as accommodations (camping), gas stations and tourist sites as POI's on it
click here

USB flash drive (4 GB)

However, the file contents of the USB stick is the same as on the data disc, the USB stick can be used again later.
click here

Micro-SD card (2GB) only for Garmin device


The Micro-SD Card is only compatible for Garmin devices. She contents all the GPS data and the overlay routes. The card need only to be insert in a garmin device and you can drive on. click here