Route length: ca. 205 KM

Gas station: Torshöfn, Reykjahlid

Road surface: 70% Gravel
Driven with a Suzuki DR 250, Suzuki DR 400S, Yamaha WR 450 und KTM 640 Adventure.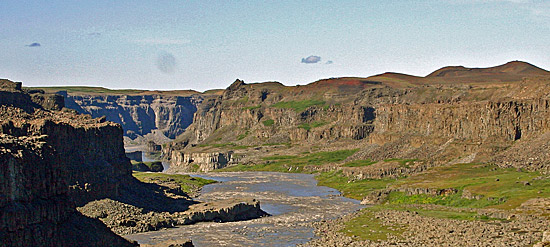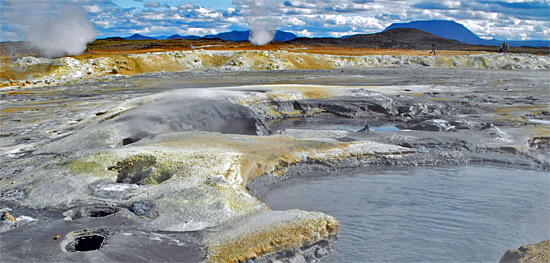 A perfect day! We first drove further north to turn on a gravel road. The track led through a heathland, occasionally passing through a river, to a hut.
Then it went towards the south to a smaller waterfall.

From the lookout point

you look down at

a bay

of black obsidian sand and the waterfall. Shortly thereafter followed the second stop, on a parking place, on the island's biggest waterfall.
After visiting you follow the signs to Myvatn. Passing the solfatara of Namaskard you reach

Reykjahlid

and the campground.
Arrived in Reykjahlid, you can choose between two places for tents: one right on the lake, with mosquitoes and one near the church without mosquitoes. We decided to spend the night on the campground at the lake, beautifully situated with seagulls ... The afternoon we spent in the "Green lagoon".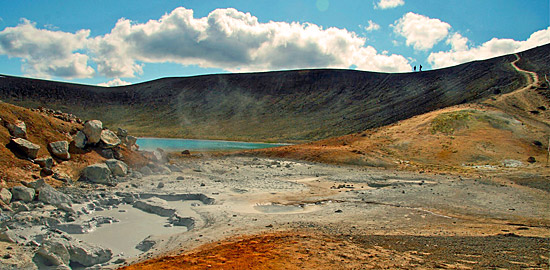 Onlineshop EN Tourbook Iceland Offroad
Detailed route descriptions of 21 offroad routes with sketch and sights so that it can also be used whitout GPS device.
Travelbook (Tourbook) in DIN A5

GPS-Data CD

As an option, there is a CD with the GPS routes and the most important points as accommodations (camping), gas stations and tourist sites as POI's on it
click here

USB flash drive (4 GB)

However, the file contents of the USB stick is the same as on the data disc, the USB stick can be used again later.
click here

Micro-SD card (2GB) only for Garmin device


The Micro-SD Card is only compatible for Garmin devices. She contents all the GPS data and the overlay routes. The card need only to be insert in a garmin device and you can drive on. click here