Slovenia Offroad Routes
Offroad or Enduro driving in Slovenia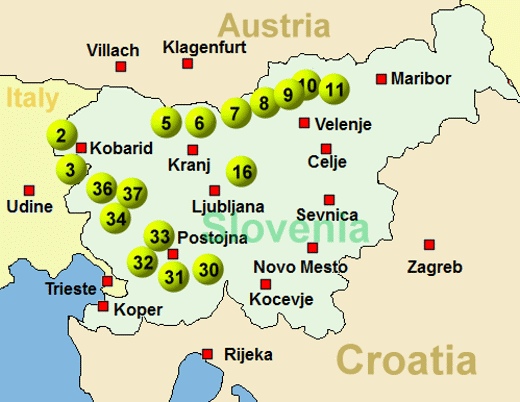 General information about the country of Slovenia:
Slovenia has become a very Western country. In the north, Austria is very similar, in the south there are vineyards and in the winter snow. Many Austrians do here overnight trips or holidays. The offroad routes leading in Slovenia through lovely landscapes are not demanding (to), they can be well used without a allrad and grand touring enduro's.

Land and People: Slovenia is a very clean country, everything is going calmly from. The people are helpful; speak in the North very often German, in the south of rare but for that English.

Security: We travel for more than 10 years regularly Slovenia, had never an incident or seen one or heard, we think happened here is much less than in Germany. Police presence is often at intersections or exits of cities (speed control).

Overnight: In Slovenia there are many different inns and hotels, the prices are in the medium price sector 50-80 Euro. If you search the Internet more, also gets double rooms in hostels or on farms for 30 - 40 euros. Alternatively, you can also stay at a winery, from 60 euros (double room). Campsites are always on the rise, there are now in Slovenia more than 40 pieces.

Travel time: We prefer the low season from April to June and from late August to mid-October. July and August is definitely the best time but you have to expect bottlenecks in overnight stay.

Transport: Move In and around the cities there as in Germany or Austria, a lot of traffic, is adding 20 kilometers outside a metropolis it is lonely, partly owned by a the road alone. If one is on a dirt road, then you meet few locals who go to their huts or weekend homes.

Special traffic regulations: In Slovenia must be on during the day, the low beam throughout the year. In addition, safety vests are mandatory in the car. In Slovenia, the "convoy Jumping" is prohibited when reversing the hazard warning lights should be on.
Eating and drinking: The Mystery of Slovenian cuisine is the recourse to old traditions, combined with creativity and fresh ingredients. Slovenian food is peasant food, so it often tastes in a simple "gostilna", even the best. Domača kuhinja, home cooking, is the magic word, and that means: eat as "at Mother" - good and above all plentiful. Slovenian hosts are almost always ready to meet the needs of their guests. As most gastronomers English speaking, understanding no Problem. Was is the wine terms as the "domače vino" usually a palatable table wine. Mostly it is true that Red as Teran and Merlot better thrive better in the West and White Wines as the Grey Pinot or Muskat to the east. The Slovenes also brew your own beer: Union, Zlatorog Laško and the domestic brands.

Vehicles: On the way we have traveled Slovenia with various BMWs, KTM's, and with a Quadix Buggy 800th.
Onlineshop EN Tourbook Slovenia Offroad
Detailed route descriptions of 17 offroad routes  with sketch and sights so that it can also be used whitout GPS device.
Travelbook (Tourbook) in DIN A5 

GPS-Data CD

As an option, there is a CD with the GPS routes and the most important points as accommodations (camping), gas stations and tourist sites as POI's on it
click here

USB flash drive (4 GB)

However, the file contents of the USB stick is the same as on the data disc, the USB stick can be used again later.
 click here

Micro-SD card (2GB) only for Garmin device


The Micro-SD Card is only compatible for Garmin devices. She contents all the GPS data and the overlay routes. The card need only to be insert in a garmin device and you can drive on. click here