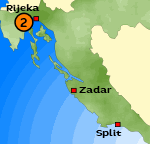 route length

: 33 KM
Max Height: 1200 Meter
particularity

:

In Croatia offroad driving is beautifully unique. It combines the hustle and bustle of the sea and the solitude in the outback.
Now you drive uphill through woods, the still good forest path becomes steeper, for some heavy travel duros it becomes more demanding.

On the other hand, all-wheelers should not have any problems on this route.

At about 1200 meters the highest point of today's route is reached. A few kilometers we continue through the forest, after which we see a vast plain. Now everything fits together, the gravel road, the great view and the wonderful weather. Slowly and enjoyfully we cross the terrain until we reach a paved road, which is also the end point of our route.

.
Onlineshop EN Tourbook Croatia Offroad
Detailed route descriptions of 17 offroad routes  with sketch and sights so that it can also be used whitout GPS device.
Travelbook (Tourbook) in DIN A5 

GPS-Data CD

As an option, there is a CD with the GPS routes and the most important points as accommodations (camping), gas stations and tourist sites as POI's on it
 click here

USB flash drive (4 GB)

However, the file contents of the USB stick is the same as on the data disc, the USB stick can be used again later.
 click here

Micro-SD card (2GB) only for Garmin device


The Micro-SD Card is only compatible for Garmin devices. She contents all the GPS data and the overlay routes. The card need only to be insert in a garmin device and you can drive on. click here