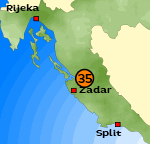 route length: 50 KM
Max Height: 1000 Meter
particularity:
The route was driven by a KTM 640 (2 Persons)and by a TGB 550 (Quad ATV).

Important Information about the Symbols

click here

Route description
This route is something special, it is not shown in our detailed map. Also there is a provider of jeepsafari's, cost per person 75 euros. The route begins directly at the sea in a 180 degree curve. After about 500 meters, the path leads into gravel.

We reach a high plateau, from where a trail leads into a side valley. Here is a small landscape idyl, a small farmhouse and the whole valley full of wild horses.

The attraction is the Karl May guest book, where everyone can immortalize themselves.

Where:


Croatia



Difficulty:

partly roughly gravelled


Length of the route:


ca. 50 KM
Onlineshop EN Tourbook Croatia Offroad
Detailed route descriptions of 17 offroad routes  with sketch and sights so that it can also be used whitout GPS device.
Travelbook (Tourbook) in DIN A5 

GPS-Data CD

As an option, there is a CD with the GPS routes and the most important points as accommodations (camping), gas stations and tourist sites as POI's on it
 click here

USB flash drive (4 GB)

However, the file contents of the USB stick is the same as on the data disc, the USB stick can be used again later.
 click here

Micro-SD card (2GB) only for Garmin device


The Micro-SD Card is only compatible for Garmin devices. She contents all the GPS data and the overlay routes. The card need only to be insert in a garmin device and you can drive on. click here